Reversible Belt – How do I adjust the buckle?
Gently pull the buckle away from the strap and turn the buckle so it now faces the reverse side of the belt.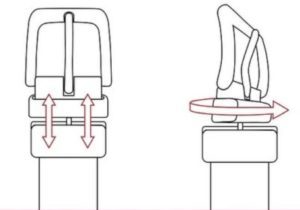 Delivery Information
Orders are despatched within 1 to 2 business days via Australia Post – Registered.
As Australia Post deals with the impact of Covid-19 and adopts additional measures to protect its people and customers, please allow extra time to receive your order.
Visit auspost.com.au/christmas for information about Australia Post deliveries for Christmas.
You can track the status of your parcel via the Australia Post tracking service https://auspost.com.au/mypost/track/#/search
Care Instructions
Cleaning
For a light clean, or to remove excess oil, wipe the belt with a dry cloth.  Do not place your belt in the washing machine or expose it to extreme heat.
Keep It Dry
Water is the biggest threat to leather.  Therefore, if your leather belt is exposed to water, make sure you dry it up as soon as possible. To dry the excess water, blot it with a dry towel then hang the belt to air dry.
Do not use hair dryers or any heat source to speed up the drying process as these can make the leather dry and brittle. It's better to hang your belt in an open area and let it dry on its own.
Storage
How and where you store your leather belts also dictates its shelf life and appearance.  If you store your belt in a humid place it can develop mildew and turn a greyish colour. If caught early, you can remove it by wiping the belt with a dry cloth.  On the other hand, when exposed to too much sunlight, leather belts tend to dry up, causing them to become stiff and sometimes crack.
Belts will look their best when stored on a hanger.